Working from home is an excellent perk; you have a better work-life balance, no commute, and you have the ability to design an office you absolutely love! Whether your home office is a designated space for running a business, the occasional freelance contract, or simply a nook to pay bills and organize your schedule, you deserve an office that reflects the design and comfort of your home. Get away from those drab cubicle workspaces and follow along as we list our 6 ideas to create the perfect home office.  
Natural Light
You want to get as much natural light as you can within your workspace. Being near a window not only provides the happiness benefits of natural light, but also gives you with a good reason to look away from your computer every couple minutes. Don't place your desk against the wall in some dark corner of the room, you're trying to get away from that corporate cubicle feel! Move your desk close to the windows and place it parallel to the panes to soak it all in. If your space doesn't have any windows, hang a serene picture above the desk or position your chair to face the door; you don't want to spend your whole day looking at a blank wall (no matter how much you love the colour).
Use Colour
Now's the time to flex your creative muscle and really forget the 'office beige' of the corporate world. If your office is already very neutral (wheat coloured walls and exposed wood floors) consider elevating the mood of the space with furniture pieces that have fun, energising colours. You can easily add splashes of colour with your desk, chair, and filing cabinets. We dare even the most subdued minimalists out there not to smile as you head to work on a banana-yellow office chair.
However, this is your space! If you're up to it, try painting your walls with a colour that really gets you ready to work. It could be a bright, cheery colour like orange or lime green or maybe you need a calming shade like a botanical green or a seafoam blue to get those gears turning.   
Creative Storage
The biggest issue with home offices is that you can wind up having your paper everywhere! If you're the sort of person who needs to see something to remember it exists try something like a wall mounted magazine rack. If you need bookcases, get nice ones that are big enough so you won't overstuff and artful enough that they'll make a great backdrop for your video conferences. Another great tip? If you're using a guest bedroom it probably has a closet. Set that up with a shelving system so you can minimize the need for storage in the main office area.
Organize
When you're short on space consider building up rather than extending your space wide. Bare walls are a valuable asset you can use to make sure your space is working efficiently. Using easy-to-install floating shelves can help you help you keep papers and office equipment off your desk and are a practical way to break up a barren wall. If you tend to make piles, get a nice basket for your mail, notes, and papers or try using vertical file folders; a perfect way of keeping important papers within arms reach. For those of you who prefer a clean desktop we suggest designating one drawer for your "to-do" papers to keep them out of sight but close at hand.  
Take Control of Your Tech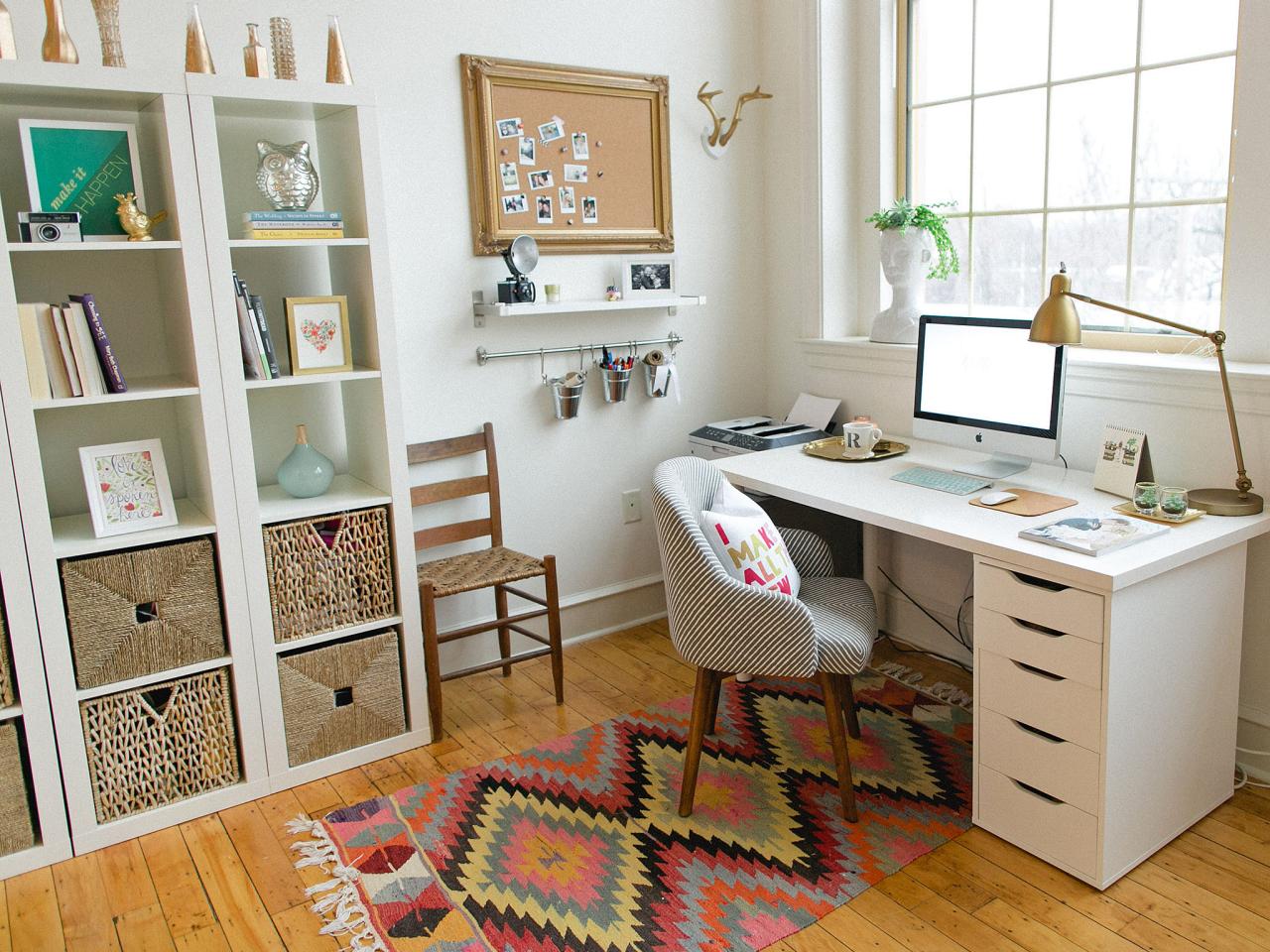 Modern offices have a lot of cords which can be unsightly if left out for all to see. Make sure your equipment is close to outlets to keep from running wiring throughout the room. If outlets are few and far between, run a power strip behind your desk to plug everything into. Most desks now have grommets in them that you can use to help guide cords and hide them underneath your desk. It's important to take the time to tame the mass of cords on the floor with cord winders and tubing. You can also create a wire organizer that attaches to your desk and lifts the cords off the floor.
Create a Comfy Space
Although your office is a place of work it's good to have a place in it where you can think and read. While your desk can be for your active work a nice comfy chair for curling up really creates a perfect home office that caters to all your needs. If you have the room for it, consider adding an ottoman and a table for coffee. Creating a comfort zone in your work area is often an overlooked perk of the home office. It gives you a place to slow down and think through things in a more relaxed way, which helps immensely when it comes to giving your mind its much needed recoup time.
We hope you enjoyed Mosaik Home's 6 Ideas to Create the Perfect Home Office! With these tips you're sure to create a spot that will not only inspire you but have you smiling every morning you get up to work.