Finding a good place to brunch in your area can be super rewarding. Not only do you get to explore your neighbourhood, you can also find a new special spot to show off to visiting family and friends, or escape for a quiet coffee. If you're starting to look around for new brunch spots around Vivid Urban Towns, we've got a couple of suggestions you may want to look into.    
Sunset Grill
It is easy to see why Sunset Grill is a franchise restaurant; with their "Fresh is Tastiest" motto,  this breakfast and lunch spot has had a lot of popularity ever since it opened. Come in to enjoy their classic breakfast with eggs, home fries, sausages, and toast or start a new weekend treat with their large variety of omelettes. With a talented staff, ready to help with anything you may need and a large menu, this is definitely the spot for your next family brunch!
Giggling Tomatoes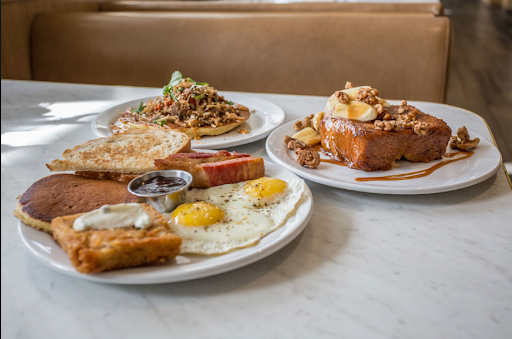 Giggling Tomatoes is one of those quiet, hidden gems you may not have heard of. Offering great food in good portions for a superb price, this restaurant should be on your list for brunch spots in Brampton. You'll stop in for family-friendly service and all-day breakfast, but end up staying for their amazing hazelnut coffee! This is a great option for those families with picky eaters who don't want to go too off-book when it comes to their brunch.  
Good Egg Dining
Good Egg Dining is a brunch spot you have to try at least once. As you enter you'll notice it's a little different from your average breakfast spot; ordering takes place at the front cash before you seat yourself to be served. If you're looking for a quiet, unassuming spot to have a classic breakfast/ lunch this is definitely right up your alley! Laid back and friendly, the staff is there to help if you need it but, ultimately, refills and the like are up to you. Of course, this is reflected in the prices, meaning you get great portions without hurting your wallet.
Cora Breakfast and Lunch

Cora's is a mainstay in the brunch community; known for their big portions and heaps of accompanying fruit. This spot is an instant favourite for those looking for a new brunch spot, meaning that it can get quite busy during the weekends. However, the staff is always well prepared for the influx of people and works hard to get everyone served promptly. Of course, the food is always incredible as well! We highly recommend the swiss cheese chicken sandwich or their banana waffles if you're looking to try something new.
We hope these brunch spot suggestions help you to find your new favourite Sunday afternoon haunt. With so many great options in the area, you're sure to fall in love in a short time! Be sure to keep up to date with what's going on around the neighbourhood and with our new builds by following Mosaik Homes' blog series.