Wouldn't it be lovely to have a massive kitchen area where space and storage was never an issue? Of course it would, but unfortunately most of us don't have this luxury, and we're left hunting down even the smallest of free spaces to store our plates, cutlery, baking equipment, and food and drinks. However, clever kitchen storage solutions are actually relatively easy to come by, inexpensive to purchase, and simple to install. These storage ideas can really free up space, leaving your worktops and counters clear and decluttering your kitchen. Here are some kitchen storage ideas to get you started:

The problem: Counterspace is a commodity

Cluttered counterspace is one of the most common kitchen storage problems. Cooks want to have every knife and utensil at their disposal, but not at the expense of the room you need to whip up a delicious dish.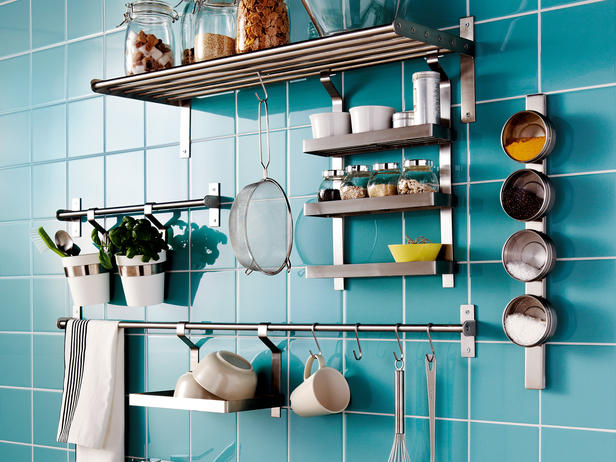 The solution: take the storage off the counter!  By wall-mounting your implements, you keep everything at eye-level without storage containers and knife blocks cluttering your workspace.
Use a magnetized strip to store your knives out of reach of little hands – just make sure your blades don't come into contact with other metals. That means no steel stripping on the sides of the holder and no overlapping knives – your blades will stay sharper for longer that way.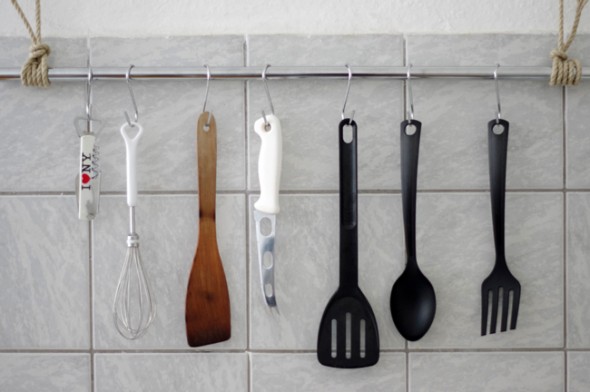 Most kitchen utensils, like spatulas, whisks and whatever that grilled-cheese-flipper is called, have loops on the end for hanging, but do you ever use them? Choose a row of hanging or wall-mounted hooks to store what you use the most, over the stove or even on the inside of a cabinet door. BONUS: no hand-drying when it's time to wash up.
The Problem: Heavy lifting
We tend to store dishes and glassware in higher cabinets – but why? Dishes get heavy when you've got more than a few of them, and we don't need another reason to dread a sinkful of dishes.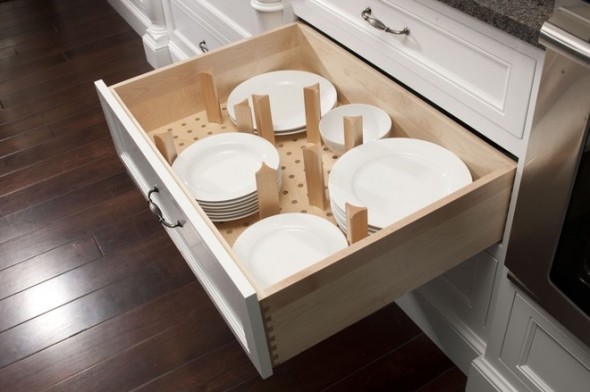 The solution: Flip your storage and put your dishes on the bottom.
If you have a deep pull-drawer, try putting a pegboard and removable dowels in the base to hold all your dishes. The pegboard lets your rearrange to accommodate whatever size china you have, all in one place.
If you have cabinets instead of drawers, you should still consider this simple swap – dishes within reach means you can redirect the pitter-patter of whatever little feet you're feeding to set the table for you.
The Problem: Curating Corners
Corner cabinets can be the most awkward element in a kitchen – maneuvering bigger appliances and items around that 90 degree angle can be an exercise in futility and sore arms.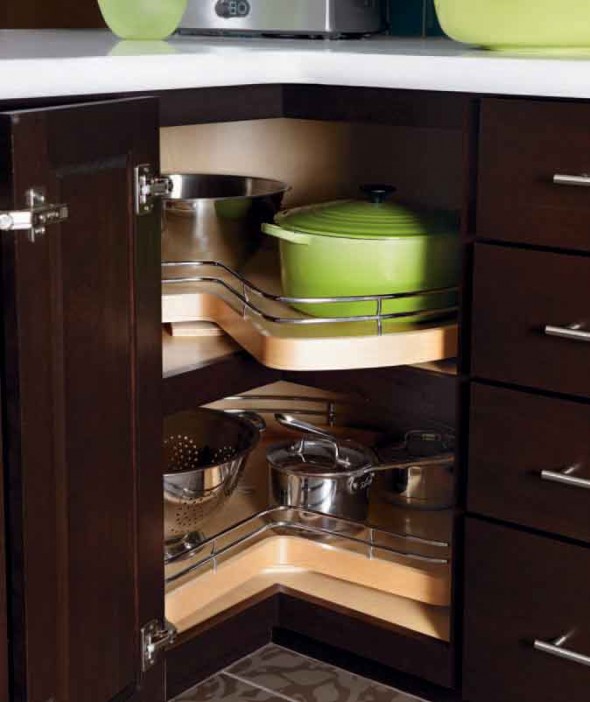 The solution: Not-So-Lazy Susan
Instead of relegating things you rarely use to a corner cabinet, add a lazy susan or two and maximize your space. Great for room-temperature storage of food as well as towels, paper napkins, spices, even utensils and tools, you can free up a lot of preferable counterspace with this simple trick.
The Problem: Your home office is slowly relocating to the kitchen
The kitchen is often a place to gather, which probably has something to do with why flotsam and jetsam from around the house tend to accumulate there. A cluttered kitchen does not a happy cook make.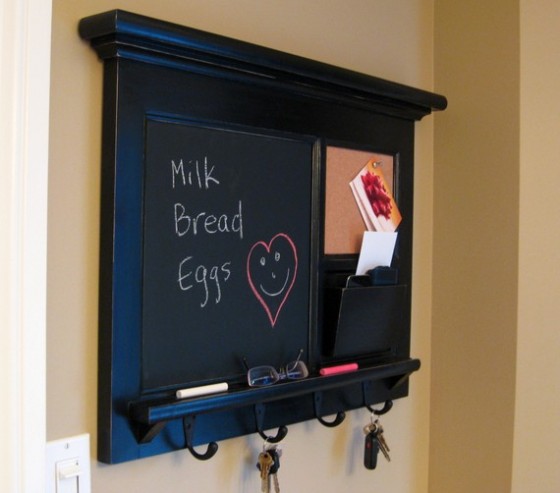 The Solution:  Get Board.
Using walls or cabinets on the periphery of the kitchen, get spare papers, keys and notes off the counter. A seldom-used cabinet or corner is great for this, because you can keep everything in one place without it drifting into food spills and mess. Use this center for an information hub for everyone in your house.
The choice of board is up to you: magnetic, chalkboard, or corkboard all work as well as you make them.
Bonus: For ways to store spices, check out our post about upcycling mason jars.
What clever storage solutions have you devised?