Many homes in today's new home developments feature unfinished basement space. This space offers plenty of potential for home owners to increase the value of their new home. By turning the under utilized space of your basement into a place your family is eager to spend time in, you can not only increase the comfort of your home, but the value as well. Basements are perfect opportunities for creating entertainment space, play rooms, man caves, guest suites, or even in-law apartments. The possibilities are endless!
Before you start:
Before you begin the planning for finishing your basement, there are a few important things to evaluate:
-Consider the moisture levels in the basement and determine if you need a dehumidifier.
-Evaluate the headroom and position of ducts and pipes, to determine if you can create drop ceilings.
-Investigate the support beams and columns, and take their positioning into account when deciding on a layout.
-Purchase a battery powered backup or second sump pump.
-Insulate pipes with foam insulation sleeves before boxing them in, to prevent heat loss and condensation.
-Use mould resistant drywall.
-Leave at least two to three feet of clearance around mechanicals such as the furnace or hot water heater for ease of maintenance and repair.
-Choose moisture resistant flooring, and soundproof the ceiling.
Determining The Layout: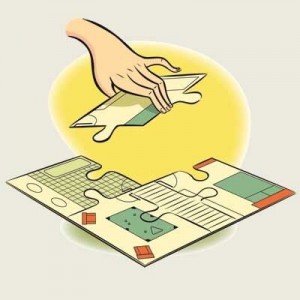 When deciding on the layout for your new space, evaluate your family's needs. Do you have children? Do you need a play area? Is this space for entertaining guests? Do you need a guest suite? Will you be including a games space (billiards, video games, board game tables, etc.) or do you prefer to keep things more comfortable, with a home theatre set up and snack bar? Once you've determined what the basement will become, consider the existing space. Take into account the beams and pipes mentioned above when deciding where to place walls. Turn support structures into design elements. Be sure to create partition walls sparingly, and use window cutouts or half walls when possible to allow for the flow of natural light throughout the space.
Some basic rules for creating your layout are:
-The main room, for socializing and entertaining, is best placed in the spot with the most natural light, in order to draw people in.
-Bedrooms require windows for light and fire safety. Locate them around the perimeter of the basement, and near the bathroom.
-Home theatres should be darker, and can be interior rooms without windows or natural light.
-If you create a bar or kitchenette, place it in an area that won't interrupt the flow of your entertainment space (make sure that guests won't have to cross in front of the TV or dodge a pool game to get a drink).
Design Suggestions:
Design choices can make all the difference in a basement space. Notoriously dark and cold, basements can become warm and welcoming with the right lighting, flooring, finishings and  accessories.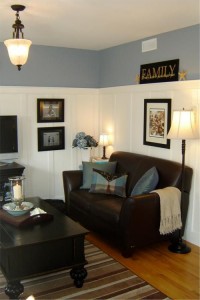 Lighting:
A dim basement is never welcoming, so using extra light fixtures to compensate is encouraged. Recessed can lighting broadcasts light in a cone shape with a wider base. Spacing them closer together can eliminate dark spots and brighten the room. Using wall sconces or lamps in addition to installed lighting allows for more control over light levels. Moveable screens or pocket doors allows for openness and flow of natural light, while creating privacy when needed.
Built-ins and Finishings:
Tall wainscotting creates a homey feel and saves your drywall from dents or dings in a children's play area. Built in cabinets beneath windows act as an anchor for the eye, making the high window placement seem more natural and adding functionality and storage to the space.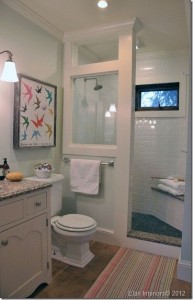 Colour and Texture:
Choose lighter colours for walls, flooring and builtins to open the space, with rich furnishings and colourful textured accessories to add warmth. For bathrooms and kitchenettes or bar areas, use light reflecting surfaces and finishes to create a brighter feel. Carpet aids in sound absorption, but if you want to opt for bare flooring, choose faux-wood vinyl floating planks for the best in moisture resistance and longevity. 
.
.
.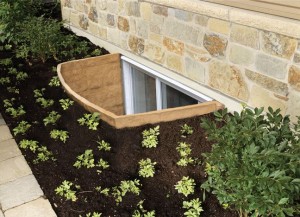 Window Wells:
Skip the corrugated metal window wells and go for more decorative wells to create a nicer look from the exterior garden, and a brighter and more detailed look from the interior. Plant hardy gardens in the wells, and top with decorative grates for safety from the lawn, that are easily removed from the inside to allow for ease of escape in case of fire. 
.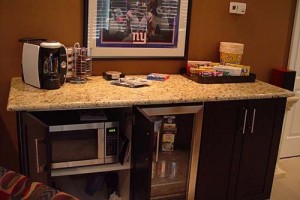 Snack Bar: 
Consider a food or drink area in the form of a bar or kitchenette. A snack cupboard, microwave for popcorn, beer or wine fridge and cold storage makes movie nights or entertaining a breeze!
.
.
Don't forget to add personalized touches: Area rugs, artwork, DIY decor such as bar signs, fun table tops or hidden storage can all make your new space feel like home.
The basement is a hub of entertainment, fun and family time. Plotting a smart layout for your needs and filling it with light and warmth will create the ultimate escape for your family right in your own home. Finishing your basement means adding value, space, and enjoyment to your family's home!