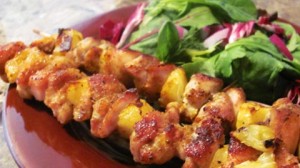 The first day of summer is here and nothing says summer like a backyard BBQ party! To sizzle up your summer days here is an extra sweet chicken recipe. Try these Hawaiian style chicken kabobs and bring some extra "aloha" to your grill!
Ingredients:
3 tablespoons soy sauce
3 tablespoons brown sugar
2 tablespoons rice vinegar
1 tablespoon sesame oil
1/4 teaspoon ground ginger
1/4 teaspoon fresh garlic, mashed
8 skinless, boneless chicken breast halves – cut into 2 inch pieces
1 (20 ounce) can pineapple chunks, drained
Skewers
Directions: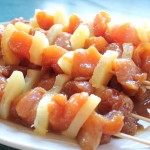 1)      In a shallow glass dish, mix the soy sauce, brown sugar, rice vinegar, sesame oil, ginger, and garlic. Stir the chicken pieces and pineapple into the marinade until well coated. Cover, and marinate in the refrigerator at least 2 hours.
2)     Preheat grill to medium-high heat.
3)     Lightly oil the grill grate. Thread chicken and pineapple alternately onto skewers. Grill  15 to 20 minutes, turning occasionally, or until chicken juices run clear.
4)     Use the left over marinade from the vegetables, heat it on the stove until boiling & add 2T of cornstarch dissolved in a 1/4 -1/3 of water to make a basting sauce apply during the last few minutes of grilling.
5)     Enjoy!