Kleinburg is an unincorporated village in the city of Vaughan Ontario. It is a narrow stretch of hilly landscape between two branches of the Humber River. Kleinburg is a peaceful, calm, quaint and tranquil place, with a scenic main street. Offering boutiques, shops, cafes, restaurants and plenty of green space, the manicured streets of Kleinburg offer everything residents could ever need in a heritage setting. Even modern companies adhere to heritage standards to keep the village's historic feel intact.
.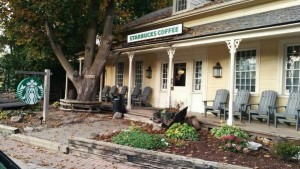 All of the must-have goods and services are available side-by-side with heritage buildings of days gone by. Original homes have been converted into store fronts, keeping the main street's style consistent without holding back convenience from its' patrons. Even the local Starbucks is quaint!
.
.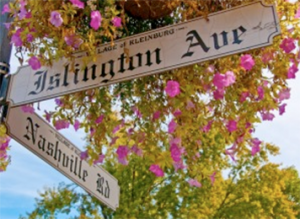 Kleinburg is recognized as "one of the best charming small towns", by Days Out Ontario. It's not hard to see why! Although the village is in close proximity to major urban centres, it has maintained its historical charm and homeliness. "This well-deserved recognition reflects the City of Vaughan's ongoing efforts to support growth, tourism and economic viability in our communities", said Mayor Maurice Bevilacqua. "The Village of Kleinburg is a cultural landmark with a rich history, and it is a place for families to enjoy and small businesses to thrive."
.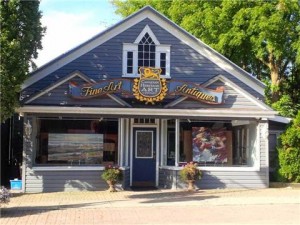 Founded in 1848 by John Nicholas Kline, the village has managed to remain traditional, keeping many of the original buildings intact and repurposed for modern life. Along with the McMichael Gallery, downtown Kleinburg features the Canadian Heritage Art Company. This gallery offers classic Canadian art and high quality European 19th century classics like work by Chagall, A.Y. Jackson and William Shayer. Main street features local shops, restaurants and national chains (Subway, Starbucks, Royal Bank to name a few) housed in heritage buildings. With plenty of green space, and a truly engaged BIA, Kleinburg's downtown has everything you could ever need, in a space that feels like home.
.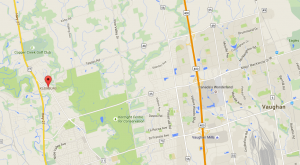 When it comes to accessibility, Kleinburg can't be beat. Minutes from the 7, 400, 401 and 407 highways, travelling or commuting to and from Kleinburg is a  breeze. Toronto, Markham, Mississauga and Pearson International Airport are at your fingertips. You'll have the peace and quiet of village living with a minimal commute to the excitement of the big city.
.
Kleinburg offers great education options too! There are five elementary school options (Private, Public, French Languarge and Athletic-Centred) in Kleinburg:  Kleinburg Christian Academy, Kleinburg Public School, Ecole La Fontaine, Montessori School of Kleinburg, and The Hill Academy. Emily Carr high school is only 10 minutes away. 
.
Kleinburg has been home to many famous Canadians, including Pierre Burton, John G. Mclelland of McClelland & Stewart, and former Prime Minister of Canada, Lester B. Pearson. It continues to be one of Ontario's most desirable places to live.
Is Kleinburg sounding like home? Check out Copperwood Kleinburg!