Our luxurious Kleinburg Crown community nestled perfectly in the town of Kleinburg offers brilliant options for you and your growing family. The natural beauty of the surrounding vistas is mirrored in the beautiful homes built there. Today we wanted to take you through our exemplary Magnolia model. This magnificent home comes in two elevations: with Elevation A providing 4250 square feet and Elevation B providing 4150 square feet. There are a few different options for the Magnolia floorplan, so let's take a look!
Ground Floor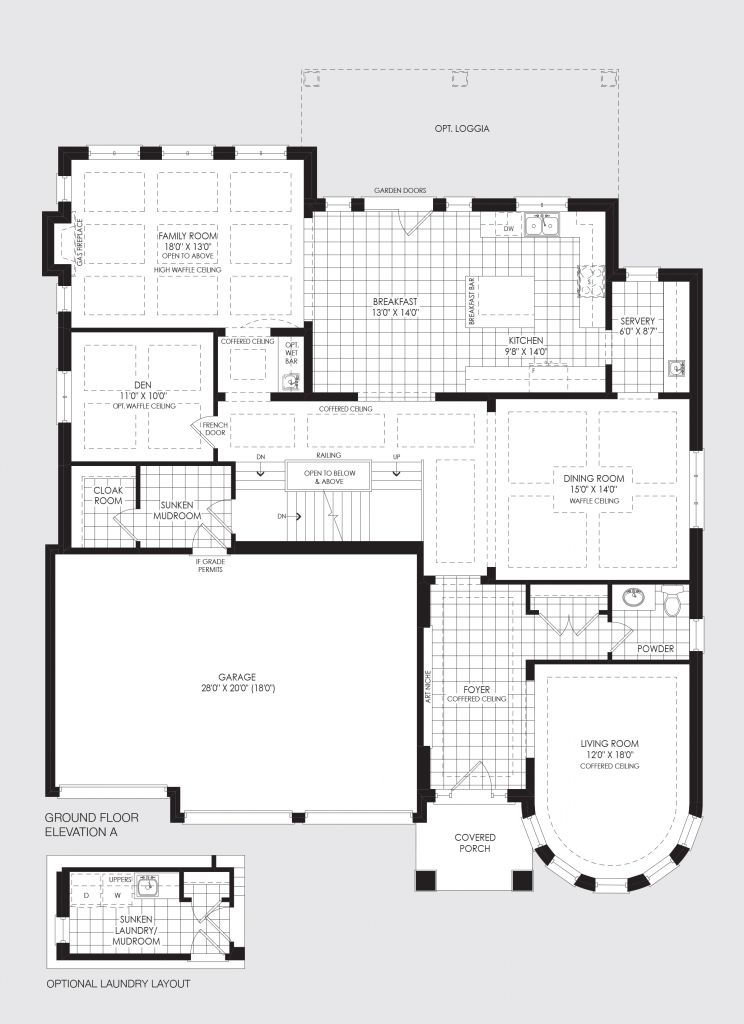 Coming in from the covered porch, you are immediately greeted by beautiful coffered ceilings and elegant tile floor in the foyer. To your right is the stunningly picturesque living room with ample natural light pouring in from the bay of windows in Elevation A. Elevation B gives you a wonderfully cozy spot to snuggle in with a book and a cup of tea, just watching the world go by. Moving beyond the living room you will see a powder room and coat closet tucked neatly away from the front door.
 Moving beyond, you are greeted by the expansive dining room with a gorgeous waffle ceiling. Passing through the dining room, you will come upon the server; perfectly placed for those large meals and dinner events! The kitchen is an absolute dream with ample space, loads of storage, and counters as far as the eye can see. From across the kitchen island (complete with breakfast bar), you can look out onto the large breakfast area and into the family room. With lots of windows, high ceilings, and a brilliant gas fireplace, this is the perfect spot for the whole family to congregate no matter the weather or the mood. Also, if you love the outdoors as much as we do, you may want to consider getting the optional loggia for those warm summer nights staring off into the surrounding natural beauty of the Kleinburg Crown community. 
 Did we mention the optional wet bar set adjacent to the family room? Imagine being able to nip off quickly to grab and mix drinks for guests at your next cocktail party without having to leave the conversation! Beyond this space we have yet another wonderful spot to escape to. The den can be set as library or perhaps a home office far enough from the noise coming from the rest of the house. Of course, we'll have to end our tour on the ground floor by making our way to the giant 3-car garage. On the way you'll pass through the super convenient mudroom and cloak room. Or, if you prefer, you can set up this space as a combination mudroom and laundry room to suit your needs. 
Second Floor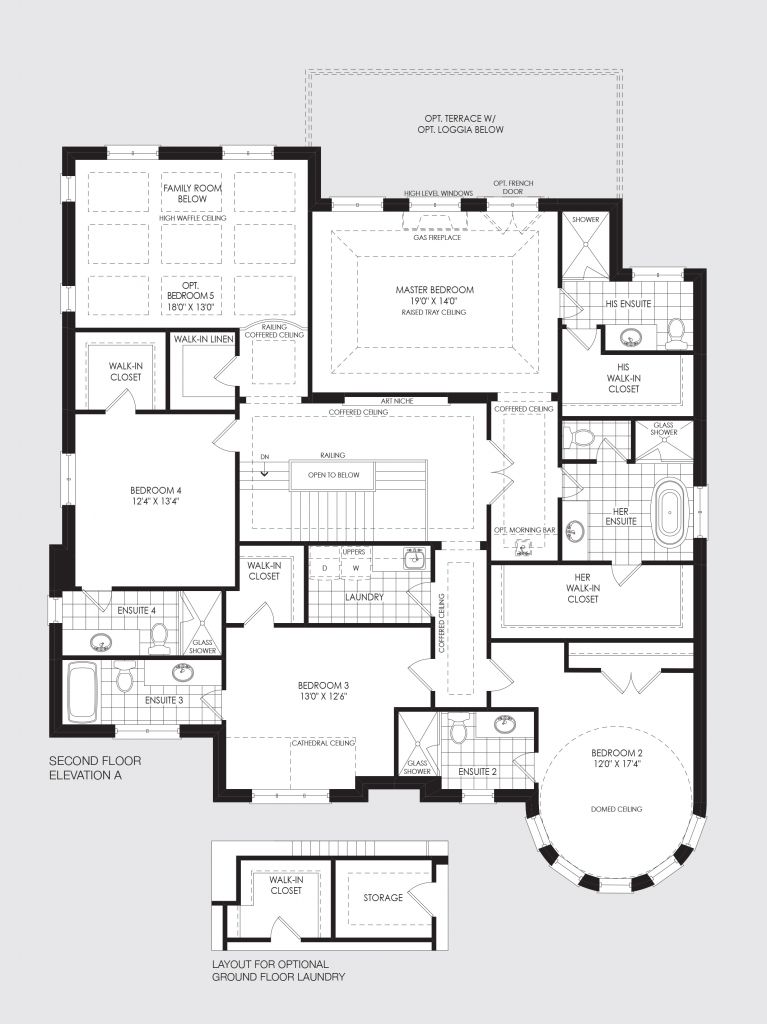 As we make our way upstairs, you'll notice that the beautiful coffered ceiling continues throughout the house. If you would like, you can look out over the railing from the landing and say hello to everyone down in the family room below! Bedrooms 3 and 4 have their own ensuite washrooms with either a glass shower or sitting tub and a large walk-in closet and large windows. Bedroom 2 (in Elevation A) has an ensuite as well as a gorgeous domed ceiling by the bay of windows. Elevation B also provides rooms 2 and 3 with raised ceilings instead of the cathedral and domed ceilings of Elevation A. Central to all of the rooms is a perfectly placed upstairs laundry room for easy access. However, if you prefer the laundry room downstairs, this becomes a big storage opportunity for whatever you may need!
 The master bedroom is really something to behold! With an optional morning bar in the hallway (for those early cups of coffee), you know this is the luxurious experience you were looking for. This space comes complete with his and her ensuite bathrooms as well as his and her walk-in closets! Of course, the room is also extremely decadent with a raised tray ceiling, high level windows, and a gas fireplace all to yourselves! This will make for a perfect sanctuary: warm, opulent, and with access to your own large terrace should you get the optional loggia.
Basement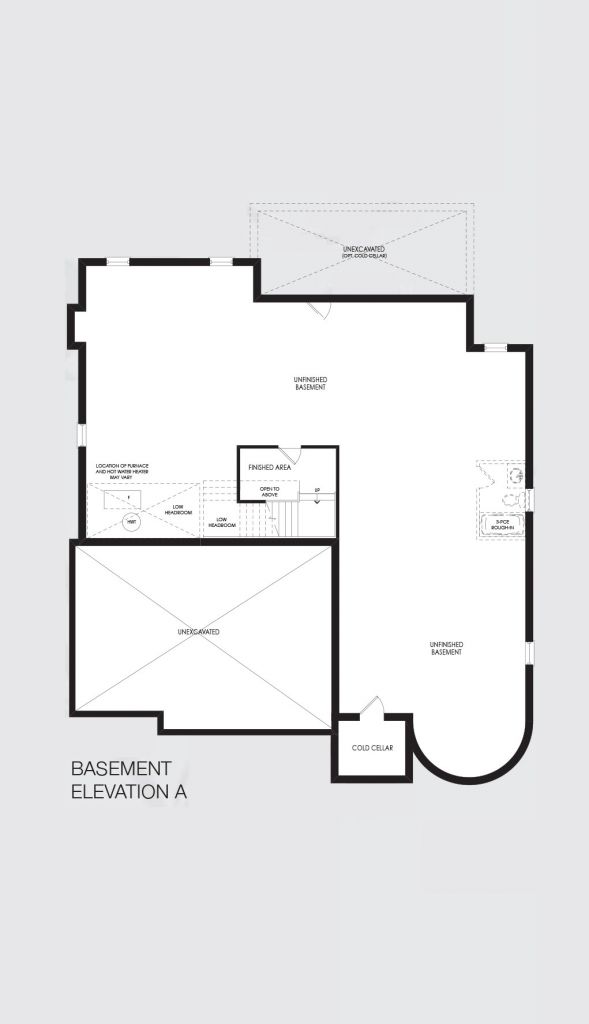 The Magnolia's unfinished basement gives you so many opportunities to completely outfit your home the way you want. With a cold cellar, tucked away furnace and hot water heater, as well as a rough-in for a bathroom in both model options, this space is ready to be moulded to your needs. You have so much room available that you can play around with the space in any way you want; outfitting it as a rumpus room, setting up a large media centre, or creating a basement apartment.  
The Magnolia model home offers a luxurious living situation for your growing family! We pride ourselves on building homes that suit not only your lifestyle but also provide flexibility to work with your changing needs. Be sure to check out Mosaik Homes' blog for more information about our beautiful Kleinburg Crown community!