Looking for an escape? Why not create your very own oasis? A master suite can offer sanctuary from the hustle and bustle of the rest of your house, becoming your very own 'happy place'. The options for bringing zen to your master suite are endless, but here are some of our favourite tips and tricks!
Colour: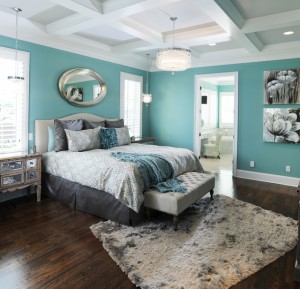 When it comes to colour, choose something that suits you, but also feels calming and classic. Pastels, rich jewel tones, velvety neutrals, or colours that evoke nature are all wonderful options! Enhance white trim with a grey wall. Encourage sleep with blue or green shades. Inspire yourself with yellow or purple. Colours can affect our moods, our physiology and even our relationships! Find a colour that feels right for you, and get painting!
.
.
Organize: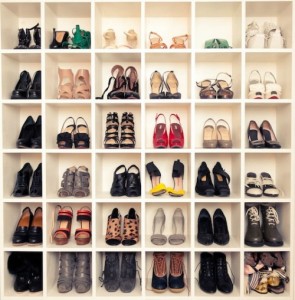 Make sure that your space is organized according to your lifestyle. Are you a fashionista? Maybe a cabinet for jewellery, shoes or purses on display suits you best! Book worm? Create a book nook perfect for reading before bed or when you're escaping for the daily grind. Storage solutions are very important when it comes to keeping your master suite organized, elegant and clear of clutter. Look for unique chests, decorative baskets, and under the bed storage to optimize your space. Adding seating with interior storage can make your space feel more cozy and inviting while offering you more hiding places!
.
Artwork: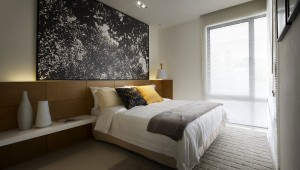 Use your wall space! Personalizing your decor is important for enjoying your room to the fullest. Find and fall in love with a great piece of art, and centre your room around it! Or, create a gallery wall, using multiple pieces to create visual interest. Art can boost your style quotient, but can also make your room feel more welcoming, chic, and personal.
.
Window Coverings: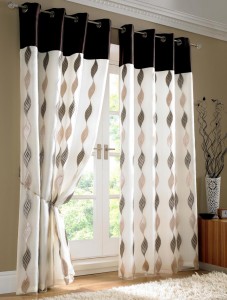 Are you a light sleeper? Blackout curtains may be your best bet! Sheers are best for someone who runs by nature's clock. Heavier drapery will create a feeling of luxury and lighter drapery will help a space maintain an airy feel. Choose a curtain rod that suits your room's style, and don't be afraid of the architectural options on the market! Even your hardware has its place when it comes to the visual impact of your suite.
.
.
.
.
Wall Decals and Wallpaper: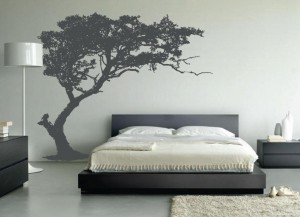 Consider creating an accent wall using a bold wallpaper or a wall decal. Both are on trend for 2015 and will really increase the modern feel of your suite! Make sure to stick with your colour scheme, and to accessorize accordingly! Once a bold wall is in place, less is more for the remainder of your decor!
.
.
.
Technology: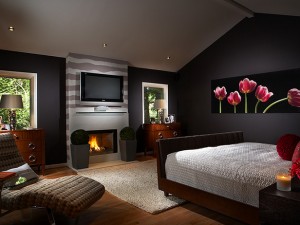 There have been some amazing advances in technology! Picture frame televisions for wall mounts, double sided fireplaces leading to your en suite, wireless speakers for bedroom surround while listening to your favourite music, heated floors for a spa-like experience in the bathroom, and so much more! Utilize technology in a way that suits you! Early risers may enjoy adding a coffee bar to transitional areas in their master suites; get that first cup of coffee without climbing any stairs! Netflix addicts might enjoy a wall-mounted flatscreen for marathoning their favourite shows from bed. Whatever your needs, find a way to make technology work for you!
.
Make it an Oasis: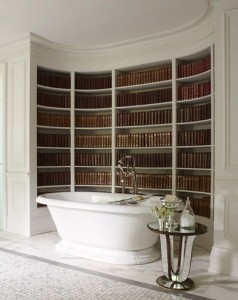 Once your master suite is personalized, add small touches to give it a true feeling of escapism. A bottle of wine and glasses stashed in your walk-in for romantic evenings, lovely spa-quality soaps and bath products for a relaxing soak in your tub after a long day, well-stocked bookcases for the reader, or even a hidden bar of high quality chocolate in your nightstand for when you just need to indulge! Fresh flowers are a great way to make any room feel more alive, and adding natural touches can increase your relaxation. Don't be afraid to add whatever makes you happy!
.
.
With a few simple tweaks, you can upgrade your master suite to a place of escape, creating a suite of calm and indulgence just for you! Enjoy a break from the everyday, in your oasis at home!