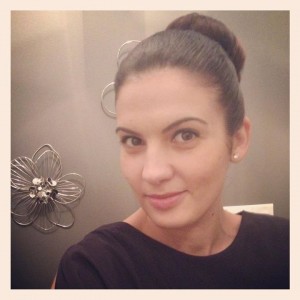 Andrea Dias is the brilliant contract administrator at Mosaik Homes; meaning she is the link between our design studio, trade partners, accounting, site staff and principles. She also maintains our computer program called Newstar, manages the design studio and helps select finishings to help serve our clients. She also cooks and bakes for us on a regular. OK so contract administrator is just her business card title! We sat down with her for a quick chat:
Tell us a little about you!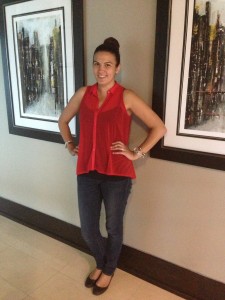 I'm a 28 year old that never wants to grow up. I love the outdoors and play softball twice a week.I am on the Mosaik softball team and play 3rd base and offend play beside Rob.  I'm not the greatest but seem to be improving every year.  Playing twice a week helps I guess. A fun fact about me is that I am a die hard Backstreet Boys fan! I share this passion with my colleague Ashley and the rest of the guys make fun of us  all the time.   I am generally very happy go lucky and feel quite fortunate in life. I have married my best friend and we just celebrated our 5th anniversary, woohoo!  Plus as much as I joke around I am very serious about my job at Mosaik and it has a very special place in my heart. Perhaps this is because I was here from the very beginning.

What do you like most about your job? 

I love that I get to be part of the design team.  I have a design background so it's only natural.  I have a creative side and  enjoy doing things that allow me to express myself. For example, I make custom cakes and sometimes I think I mostly do it for the decorating part! Cooking, crafts and DIY are my favorite hobbies. You can find my recipes and DIY life hacks on Mosaik's blog and our pages on Facebook, Twitter, Pinterest, Instagram and Google+. I also really enjoy interacting with our fans and followers on social media!

Where do you live, work and play?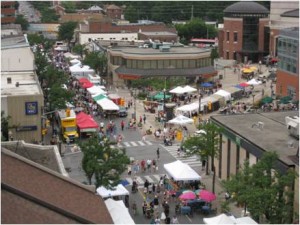 I Live in Brampton and really love it here. One of my favorite spots is the Brampton Farmer's market downtown on Main Street, between Theatre Lane and John Street. They feature fresh, locally grown produce, preserves, baked goods, hand-made crafts and more from over 50 vendors. It runs every Saturday from 7AM – 1PM.

I work in Vaughan of course and am quite pleased by the fact that Vaughan Mills  is so close to the office.It's lovely for shopping and I get to take my inner  child to Lucky Strikes for bowling once in a while.

Speaking of the inner child, I love playing and summer sports are on the top of my list.You can usually catch me at the Rogers Center watching the Blue Jays or at BMO Field watching a TFC game.  Recently I've become a huge fan of Liberty Village and Williams Landing is one of my favorite bars.

What's your favorite Mosaik Community and why do you find it so special? 

I'm going to have to say our new site in Newmarket, Vales of Glenway.  You have the option of some really nice floor plans and the exteriors are beautiful.  You will also get a mix of different materials such as stucco, stone and brick. There are a few things that need to be finalized, but we are looking at a September- October Launch for the site. You can register online to get all the news and updates. It has been a very popular site so make sure to register ASAP as we are expecting a busy opening for the site. If you ever have any questions or feedback, feel free to reach me at the office or message me @mosaikhomes on twitter, Facebook or Google+, follow my board, Andrea's picks on Pinterest!

Cheers all!