The front porch is the gateway to your home. It is your welcome centre, your home's handshake, and your style calling card. Front Porch Design is paramount in increasing curb-appeal, creating a comfortable and welcoming entrance to your home, and previewing your home's interior style. Today, we'll talk about some exciting design tips for the front porch to increase your curb appeal for Spring 2015.
When deciding to revamp your front porch, start by asking yourself these questions:
1)How will your porch be used?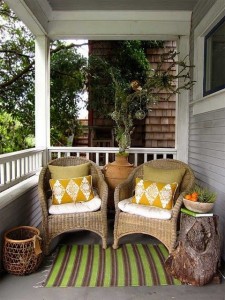 Is your porch a transitional space, or its own living space? Small porches should echo the style of the house, while large porches should create an environment that is comfortable, stylish and functional.
2)When will your Porch be used?
Large porches have summer-time social potential. Creating a living space outdoors that is both weather-proof and limits insect activity can provide extra square footage for merriment in the warmer months. Including a separate dining and sitting area where space allows can create a functional hosting area for entertaining neighbours and friends.
Smaller porches are used year-round as the gateway to your home. Creating a look that reflects the interior of your dwelling is important, as it allows your home to project your design style outwardly. Seasonal decorations and accessories give life to small porches, adding whimsy to your home's reception.
3)Is your porch user-friendly?
No matter the size, functionality of a porch is important. Large porches should be welcoming, encourage good traffic flow from home to entertaining space, and provide enough seating for your entertaining needs. Small porches should be more simple, stylish, and inviting, with a welcome mat and container plants making up the bulk of the furnishings.
.
Let's Talk Style: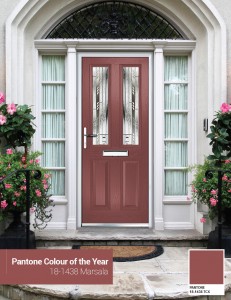 Pantone's Spring 2015 colour collection is all about softer, cooler and ethereal colours, muted shades, vintage appeal, and evoking nature's calm. The palette, entitled "En Plein Air" is vaguely tropical in tone with muted shades harkening back to retro minimalist times. Pantone's 2015 colour of the year is included in the Spring collection, and is titled "Marsala". It is a rich, sophisticated and earthy hue perfect for a bold front door done in high-gloss paint. Container plants (as seen in the photo), provide sophistication and eye-pleasing symmetry visible from the road, enhancing curb-appeal, allowing seasonal touches and providing bold accent colours to compliment the porch's overall style.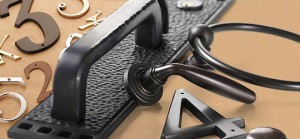 Welcome mats, small benches, elegant hardware and unique gardening containers or urns, all help you to personalize your porch to reflect your design style. On trend for 2015: miniature fruit bushes, succulents, monogrammed welcome mats, sculptural door knockers, slick and strong house numbers, and the general rule of 'smaller is chicer'.
For larger porches, outdoor artwork, exterior drapes, colour accent cushions and vintage-appeal patio furniture are on trend. Create a seating area for socializing that features wicker or wooden outdoor furniture with luxurious cushions and throws, and a separate dining area with place settings, succulents in Victorian teacups, lanterns and personal touches.
.
Container Gardening: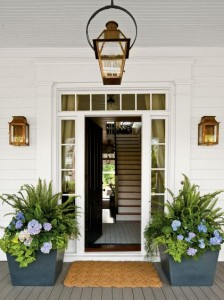 When planning your container gardens, choose plants that will fit with your colour story. Unique urns or garden boxes that reflect the style of your home are best, and should be used in pairs to create symmetry. Miniature fruit bushes create visual appeal while providing edible berries for your household (perfect for summer cocktails!) and succulents offer low-maintenance with high style impact. Spring 2015's trends focus on wildflowers, creating 'unstyled style' and evoking a vintage, rustic and homey feel.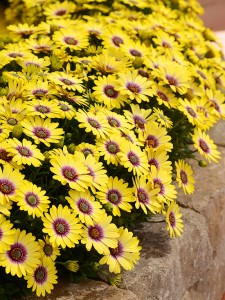 For annuals that match Pantone's spring palette, choose Indian Paintbrush, Sweet Pea, Apricot Beauty Foxgloves, Golden Yellow Hollyhocks or Goldflame Honeysuckle, Caladium Artful Heartfire, Cuphea 'Vermillionaire', Osteospermum 'Blue Eyed Beauty', Petunia Cascadias 'Indian Summer' or Pansy Cool Wave 'Sunshine 'N Wine'.
.
.
Personalizing Your Porch Design: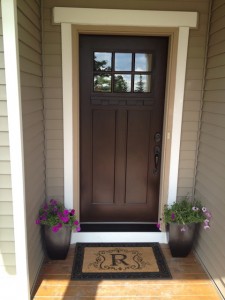 Style is all about finishing touches. Personalize your porch by adding monogrammed hardware or welcome mats, unique containers that reflect your personality and match with your home's interior decor, seasonal touches, and small accessories like lamps, vases, antique watering cans, bench cushions or outdoor artwork. For smaller porches, keep in mind that less is more, smaller is chicer, and symmetry is all-important. For larger porches, utilize the square footage with functionality in mind. Think about scale and proportion: work with the space you have. Seek inspiration from your neighbours, magazines, television and the internet, and don't be afraid to showcase your personality!
.
Your takeaway:
Creating your perfect Porch is as easy as a coat of paint and some on-trend accessories.
Enhancing your porch is a simple three-step process:
1)Colour: paint the front door with high gloss paint in a colour that pops!
2)Accessories: Select slick strong house numbers and elegant hardware to make a statement, and add personalized touches such as monogrammed welcome mats.
3)Garden: Use twin urns or garden containers to create visually appealing symmetry and add accent colours using wildflowers.
Follow these simple tips to optimize your curb-appeal, welcome guests, and create an eye-catching reflection of your interior homestyle.
Don't forget! You can follow us on Facebook and Twitter for more ideas and tips!