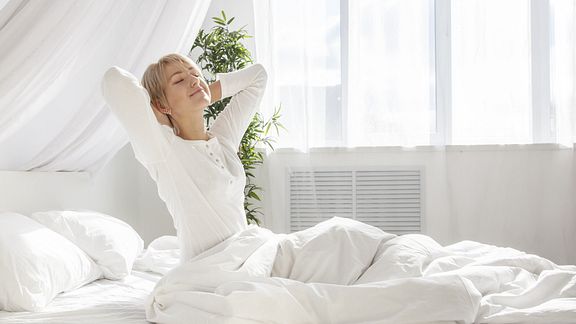 Your master suite can be beautifully dressed with the finest decor, making your room feel serene and calming. The one element, however, that can make or break your bedroom's comfort is the spot where you spend most of your down time – your bed.
Find a mattress that soothes as well as supports you to make your master bedroom oasis complete, with these tips from Mosaik Homes on how to choose a new mattress.
Know When It's Time
The age of the mattress is one of the first things to consider. Most people don't remember when they bought their last mattress. If you are not good at keeping files, you should write the date of purchase on the mattress label.You may not notice the gradual change, but after a decade, most mattresses are worn thin in spots and become lumpy. You should generally replace your mattress every 7 to 10 years. This may be a shock to many people who have purchased a mattress with a 20-year warranty. You should be aware that the warranty is meant to cover certain parts such as springs and workmanship and not a mattress' overall comfort.
Research Various Types
Comfort is highly subjective, so get to know the various types of soft, firm, foam and coil mattresses, to choose the right mattress that suits your needs. There are four primary types of mattresses which differ in manufacturing processes and price ranges. It's essential to realize that price isn't the determining factor when it comes to choosing a perfect mattress and that the most expensive one isn't necessarily the best one for you. If you're looking for a versatile option, you may want to opt for a coil mattress. You can choose between continuous coil mattresses which are made from a single looped wire or open coil mattresses, that are made of single springs fixed together by one wire. If you want a mattress that's going to fit the shape of your body, memory foam mattresses are just the option for you. Foam mattresses are known to reduce pressure pains and relieve pain, but can also be quite pricey. Another option is latex mattresses which are praised for their firmness and durability. Lastly, air mattresses can greatly benefit those who are looking for a solid foundation but are known to lack movement absorption. If you and your sleeping partner have different tastes, look for mattresses with adjustable firmness on each side of the bed.
Give it a 15-minute Test
Consumers who spend 15 to 20 minutes testing each mattress at the store are more likely to be happy with their purchase. Buyers should kick off their shoes and lie down for five minutes on each side and five minutes on their backs, plus five minutes on their stomach if they sleep that way. Try lying down in the position in which you normally sleep, whether it's on your stomach, back or side, and moving around to different positions to make sure you're content. Note where you're feeling pressure and adjust from there. If you're a side sleeper, on a firm mattress, you'll feel the most pressure on your hips which can lead to discomfort in the morning. In this case, you'll want to opt for a mattress with more give, such as a pillow top or contoured mattress. However, if you're a stomach sleeper, you'll most likely want a firmer mattress to make sure your back is supported. In general, you'll want to try different mattress comfort levels until you find the perfect one.
Return Policies
You won't really know if you've met your mattress match until you've spent a week or two in bed, and have seen how you feel in the morning. Purchase your mattress from a store with a generous return policy, generally 30 days, in case problems arise when you give it the overnight test. It is expected that a consumer should use a mattress for at least a minimum of 30 days before thinking of making a return for an exchange or refund. This way the consumer must have really been convinced that they are not satisfied with the product. Many companies do offer an in-home trial but don't take this as expected, because not all of them do. Be sure to check if the company offers this, and if so for how long your trial period is. Some may be as short as 7 nights, while some offer you lengths of up to 120 nights!
Take Care of Your Investment
Once you've got your mattress home, it's important to take care of it, especially if you have indoor allergies. In spite of the fuss over feather pillows, dust and dust mites are far more worrisome when it comes to allergy offenders. If you're an allergy sufferer, the best trick is to seal your pillow, mattress, and box spring in allergen-protective covers. For severe allergies or asthma, experts suggest washing bed linens weekly in 130° water. Several new products are sporting materials like copper, silver, and bamboo to fight bacteria and mold, but frequent washing may be just as effective.
These tips on choosing the perfect new mattress will ensure you sleep more soundly in your master bedroom oasis.