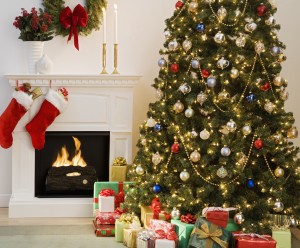 The holiday season is the perfect time of year to entertain and bring your family and friends together. Whether your personal style for the holidays is traditional or modern, wanting to create a decadent décor to help your guests into the holiday mood can drain your budget quickly, but it doesn't have to. In the first part of our two part holiday décor series, here are a few ways to create luxurious traditional holiday decor without breaking the bank and enjoying some great do it yourself projects.
Traditional Wreaths & Greenery
Making a wreath is a great weekend project and a timeless welcoming accent to your front door. If you have double doors, hang two to give balance and create visual appeal. If glitter and metallic are not your cup of tea, bringing the outdoors in with evergreen garlands and wreaths are beautiful ways to add a touch of nature to your holiday décor and add a beautiful scent to your home. You can purchase preassembled garlands and wreaths at any craft store. One way to save is to gather nature's ornaments yourself and assemble your garland or wreath with florist's wire or jute rope. Edge pine cones, acorns, and fir boughs and tips with silver or gold paint and assemble them into garlands or wreaths and add holly berries or bows to finish. If you don't have a forest of evergreens to pick your own, stop by tree lots where they trim the trees for customers and you will have access to all you need to deck your halls on a dime.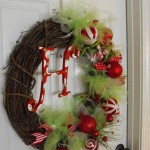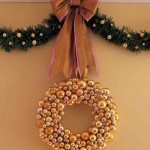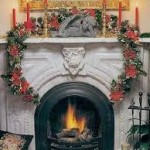 Tutorial: DIY Glass Ball Wreath
Tutorial: Making your own garland
Tutorial: DIY Wreath
Traditional Table, Fireplace and Mantle Displays
A beautiful table sets the tone for the entire meal. Repurpose tall vases or glassware from around the house to create a breathtaking centrepiece by filling it with glass ornaments in the colour theme you have chosen. Add a few candles on raised wine glasses, trim it with gold and silver tipped greenery and you have a table that will draw oooh and ahhs from your guests. Using dollar store ornaments to create place cards for your guests gives a beautiful formality to the table. Use the same ideas when decorating your fire place and mantle and carry the holiday spirit from the dining room to the living room.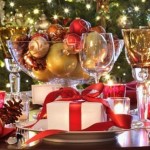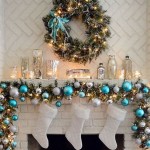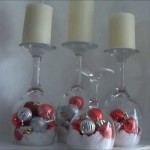 Tutorial: Elegant Holiday Tables
Tutorial: Holiday Candle Holders
Tutorial: DIY Mantles
 Traditional Christmas Trees
If your holiday celebration includes a Christmas tree, you can save a considerable amount and create family memories by visiting a local cut your own tree farm to pick the perfect fir. Decorating it by creating sparkling decorations can be a fun project that can involve all the members of your family. Pick up clear glass or plastic ornaments at a local craft store, some glitter, a little ribbon and a few other items from the grocery will give you the tools to create beautiful ornaments to decorate your tree. Add a few traditional glass ornaments in the same colour palette, some bows, a few strands of cranberries and a dusting of tinsel and your tree will look fabulous and only you will know how much you saved.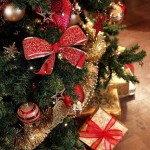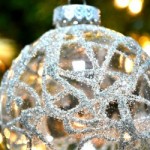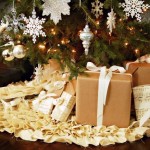 Tutorial: German Glass Ball Ornament
Christmas Tree Inspiration
Tutorial: DIY No Sew Elegant Tree Skirt
Next time we will look at Modern Christmas Décor. Find us on Facebook for more holiday traditional and modern décor ideas.
Photos via Pinterest