Welcome back to part two of our list of 10 upgrades that will increase your resale value of your new home.
One of the benefits of buying a new home is your trip to the design studio and access to a professional designer. Taking your ideas and dreams for your home helps the designer understand a little more about your personal needs and it helps them guide your design experience, it also gives you the opportunity to have a professional's advice on how to accomplish those dreams. Designers bring a wealth of knowledge and skill to home design and use creative problem solving to save money and time. They are aware of current trends and can help bring your list of ideas to life. Sonia Bruzzese from the Mosaik Homes Design Studio joins us again to share her professional insight on where to allot your design budget to help your home maintain and increase its resale value.
#5   Flooring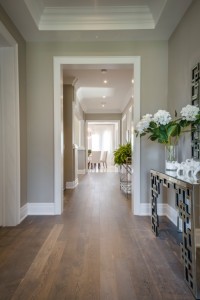 Flooring brings the home together and when possible upgrading to higher quality woods and stone and broadloom will provide a long lasting floor for your family but they are a noticed feature by potential buyers. "Hardwoods in the kitchen are still a popular choice with hand scraped oak being the #1 choice. It is extremely durable and rustic looking" said Sonia from the Mosaik Homes Design Studio  When it comes to tile, in both 18"x 18" and 24" x 24" "hand polished porcelains that mimic marble are a popular choice" added Sonia. If your design budget is limited upgrading the flooring in high traffic areas such as the kitchen or living room area will pay off in the long run.
#4   Energy Savers

Beyond your kitchen appliances choosing energy saving upgrades for your home saves you money immediately and also is an upsell feature for potential buyers. Some energy savers to consider are tankless water heaters, energy efficient showerheads, toilets and faucets. Heating and cooling systems in the home offer a variety of energy saving upgrades including thermostats, along with upgraded systems that will provide longer service and increased savings with efficiency.
#3   Closets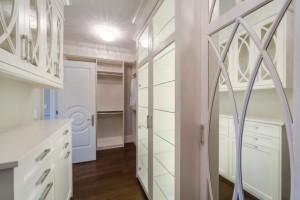 Large walk in closets with built in storage are not only a dream for current homeowners but also a selling point for potential purchasers in the future. Buyers look closely at organized storage spaces not only in closets but the pantry and laundry room as well.

#2   Lighting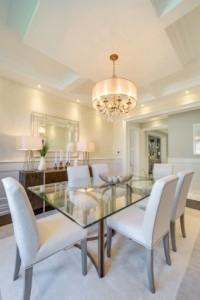 Upgrading your lighting fixtures as well as the number of lights is a solid way of increasing your retail value. Kitchens and bathrooms are often overlooked when adding additional lighting but simply adding under cabinet lighting can give extra light when working in the kitchen and also adds mood lighting when entertaining. Adding sconces and additional overhead lights in rooms where you will be spending time every day will not only make things easier to see for you but will be noticed by potential buyers.
#1   Bathrooms
Bathrooms are a hotspot for upgrades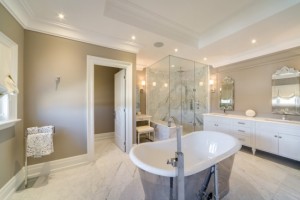 because not only do they give the homeowner a beautiful, relaxing sanctuary but they usually offer a solid return on investment as they are a focus for future buyers. "Free standing tubs in the master bath are very popular" Sonia from the Mosaik Design Studio added. Other possible upgrades including upgrading tile, counters, fixtures, sinks and shower enclosures and even fireplaces and heated towel bars or chandelier lighting create almost a royal environment for the homeowner and add value to the home.