Okay so you didn't book a fancy restaurant for Valentine 's Day, and you missed the memo on the roses and gifts, it doesn't matter right? Wrong! Fun and creativity can go a long way so how about having a Valentines themed dinner right in your house or condo with your loved ones? Putting a bit of elbow grease into your dinner can go a long way, making your spouse and children feel extra special on Valentine's Day. It doesn't need to be extravagant but having some extra touches of fancy will impress and delight those at your table. Here are some great tips on how to make your Valentines dinner at home as special as those you're celebrating with: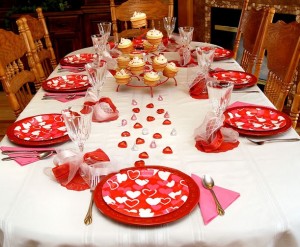 This festive yet super easy and inexpensive table setting features heart themed paper plates you can purchase at your local grocery or dollar store. Using stemware you may already have around your house or condo, you can liven them up with some red, white or pink ribbon and decorate your table with red and silver chocolate kisses. Your centrepiece can be valentines cupcakes like these, or red and pink flowers.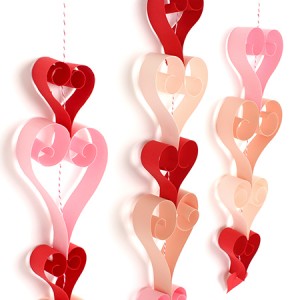 Adding some valentines décor to your dinning room can be as simple as blowing up some pink and red balloons, arranging pink and red roses but for a little more whimsy (with nearly zero budget if you have all the materials in your house or condo), why not try making these DIY heart strings? They're super fun and easy, even get the kids involved to help make them. All you'll need are some strings, strips of red, pink and white construction paper and a glue stick. Simply curl your strips on one end and combine them on a string by gluing them together. You can play around with the size and placement of the hearts and make the strings as long as you want, or even tie them individually to a streamer.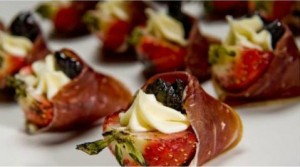 You might be familiar with prosciutto wrapped melons which are a classic favourite because of the contrasting flavours of sweet and salty which make an excellent pairing. Here's a twist on that age old recipe which cranks up the flavour meter and stuns your visual senses with a feast for the eyes. Make these ahead using honey grilled strawberries that are stuffed with figs and mascarpone and finally wrapped in prosciutto.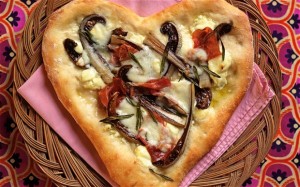 As a main course, personal heart shape pizzas make a delightful treat. You can customize the toppings based on who likes what and even customize the size and thickness of the crust. You can purchase the dough in the bakery section of most supermarkets. Once you've formed a heart shape with your hands, consider using a fork to press down on the edge of the crust to help solidify the form and add a bit more decorative detail which you won't see on an ordinary pizza any other day of the year.
For more great lifestyle and home décor tips, be sure to visit the Mosaik Homes Facebook Page!