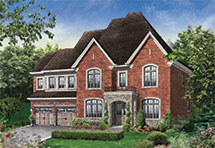 Many business professionals have realized early on in their careers the importance of networking. Attracting valuable contacts that can eventually lead to business growth opportunities not to mention like-minded individuals to support and mentor your business are an incredible way achieve personal and professional success. Living in a prestige neighborhood like the Vales of Humber which features only luxury single detached homes that integrate beautifully with attractive streetscapes, parks and schools in the ideal family-focused environment can provide an opportune setting for organic networking.
Organic Networking
Meeting other neighborhood professionals while taking an after-dinner stroll, bumping into parents at the park, taking a morning jog, picking up the kids from school, or just casual encounters at local dinning and grocery spots can all create opportunities for further networking and idea sharing. These sorts of social connections further enhanced by social media platforms like Facebook and LinkedIn can really propel established business owners and practitioners as well as startups alike to enhance their growth potential. Formal networking events are even taking place in Brampton not far from the Vales of Humber run by expert business leaders who are well versed in the field of bringing professionals together in order to launch and propel businesses to the next level.
Networking Workshops
Among the many professional networking events that take place throughout the GTA, Brampton's own Marlene George has a long standing track record as a career coach and is now organizing workshops, wellness retreats and networking events in the Brampton area throughout the year.  In the months of February and March, participants will have the opportunity to experience Networking for Success Meetings which will bring together business professionals for focused discussions and idea sharing aimed to help support one another and overcome the challenges that might be facing your business. Participation fees are nominal but can help expose you to new contacts that may dramatically enhance your business. A great resource for those living in the Vales of Humber, workshops by Marlene George are just one of the many inspiring and helpful ways professionals in Brampton have access to business support services.
For more great tips on ways you can make life in the Vales of Humber enhance your business and lifestyle, be sure to visit the Mosaik Homes Facebook Page!