No matter where you live, getting around and ease of traffic are important considerations. But for those businesses and professional practices well established in Brampton, living close to your place of work is a great way to alleviate the strain of growing commuting times and road congestion. Living in a prestige neighborhood which is surrounded by estate homes and pristine views of nature may already seem like the best location, but further complemented by expanding road infrastructure, the travel between home and business seems to be getting better and better. Vales of Humber is ideally located with convenient access to Highways 407 & 427, providing entry to the rest of the 400 series highways, giving homeowners an easy and streamlined commute to anywhere in the GTA!
Improved Public Transit Services
Brampton residents are also benefiting from improved transit services thanks to contributions from the federal Gas Tax Fund. In fact, joint investments from the federal, provincial and municipal governments supported the renewal and expansion of the City's fleet and transit road infrastructure. In total, 15 new low-floor buses with increased accessibility and improved Presto fare collection and SmartBus technologies hit the city's roads, replacing aging vehicles and increasing the fleet to meet the expanding needs of the community. An additional ten buses were refurbished, to help extend their lifespan by six years and maintain current and future service levels for public transit users. Brampton has also seen upgrades to the bus stop shelters improving the streetscape and increasing passenger safety, comfort and convenience. For more details click here.
Road Improvement Projects
Aside from public transit system improvements, the Peel Region Mississauga Road Improvement Project began in 2008 and provides increased lanes, sanitary sewers and local water mains all building up to the ultimate build out of northwest Brampton.  This foreshadows future population growth and community development in Brampton, increasing the demand for professional services and businesses, making Brampton an even more attractive location to establish and develop your practice and/or business.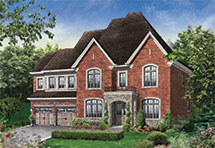 Transportation infrastructure updates like these, and the many more poised for future development are why so many professionals are now calling Brampton home.  The luxury of a prestige neighborhood like the Vales of Humber make life in Brampton a commuters dream! For more great reasons to call the Vales of Humber your new home, be sure to visit the Mosaik Homes Facebook Page!